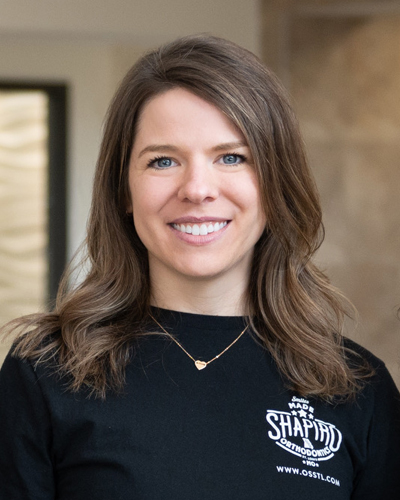 Lisa M. Seim, DDS, MS grew up in St. Charles, Missouri.  She attended and completed her orthodontic residency at Saint Louis University. She became interested in orthodontics when she had braces as a teen. As an orthodontist, she loves getting to know her patients and watching them transform and gain self-confidence, just like she did.
Education
Bachelor of Science, Nutrition & Dietetics – St. Louis University
Doctor of Dental Surgery – University of Missouri—Kansas City
Master of Science in Dentistry – St. Louis University
Certificate in Orthodontics – St. Louis University
Fun Facts about Dr. Seim
Is your current profession what you wanted to be when you grew up and why? Yes!  I wanted to be an orthodontist since I was a teenager. I gained confidence after braces, and now I get to give that gift to other people as a career. I love it!
If you could live a day as any type of animal, what would you choose and why? I would be one of my two dogs. They are spoiled.
If you could eat only one food for the rest of your life, what would it be? Some kind of Mexican food… maybe tacos.
If you had to listen to loud music every day for a year, what would you choose? The Chill station on SiriusXM.
What kind of person were you in high school? I was studious, but I was also involved in track, tennis, several clubs, and had a part-time job. It was a busy time!
What do you like to do in your free time? I love paddle boarding, hot yoga, and I hope to travel more in the next few years. Above all else, I enjoy doing anything with my family.