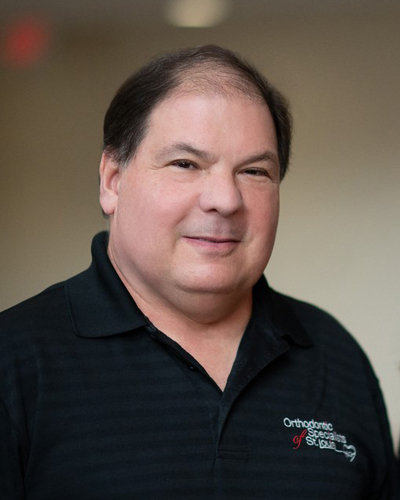 "Our mission is to create beautiful smiles for our patients in a professional, efficient and enjoyable environment. We listen to our patients and let them know they're important and valued." – Robert A. Shapiro, DDS, MS
With more than 35 years of experience, Dr. Robert Shapiro treats patients of all ages who want to smile with confidence. He attended the University of Toronto where he earned his Doctor of Dental Surgery degree in 1986. He practiced dentistry for 11 years before pursuing a graduate degree in orthodontics from St. Louis University in 1999.
Dr. Shapiro has a special interest in adult orthodontics and works with several of the area's restorative dentists to achieve optimal results for his patients, as he is a firm believer that a multidisciplinary approach is often the best one.
New orthodontic techniques and appliances can greatly reduce discomfort, decrease the frequency of visits, and shorten treatment time. As an alternative to bulky metal braces, Dr. Shapiro offers translucent ceramic braces and the Invisalign® system, which straightens teeth using a series of clear, customized, removable appliances called aligners.
Dr. Shapiro stays up-to-date with the latest advancements in orthodontics by holding memberships in many professional organizations, including the American Association of Orthodontists, American Dental Association, and Alpha Omega International Dental Fraternity. He also serves as a Board Member of the Greater St. Louis Dental Society.
To give back to his community, Dr. Shapiro has been a long-standing member of the Give Kids a Smile organization which provides free dental services for children in need.
Fun Facts about Dr. Shapiro
Is your current profession what you wanted to be when you grew up and why? 

I wanted to be medical Doctor but I changed my mind after suffering a serious illness in my senior year of High School.

If you could live a day as any type of animal, what would you choose and why? 

I would want to be an eagle so I could be able to fly.

If you could eat only one food for the rest of your life, what would it be?

  I love a good bone in ribeye steak.

If you had to listen to loud music every day for a year, what would you choose? I love music. I would listen to Led Zeppelin or RUSH.
What kind of person were you in high school?

 I was well liked, but very shy.

What do you like to do in your free time? I love to read, study magic, play word games, travel, being with my family & friends.